Picture Frames
High design, unique artistry. We offer variety of sizes from desk top frames to Wall size frames. Please check the models from online catalog.

Available sizes: 4" x 6", 5" x 7", 11" x 14"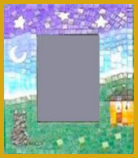 Mirror Frames
These are treasury pieces expressing the colors of light with our design. Stunning, attractive mirrors would be a remarkable addition to a main room or an accent piece to a bar décor, in which you will feel the warmth of the atmosphere.

Available sizes: 10" x 10", 10" x 13", 11" x 14", 12" x 16", 16" x 20"